GAN Launches B2B Sports Betting Technology & Managed Trading Services in the U.S.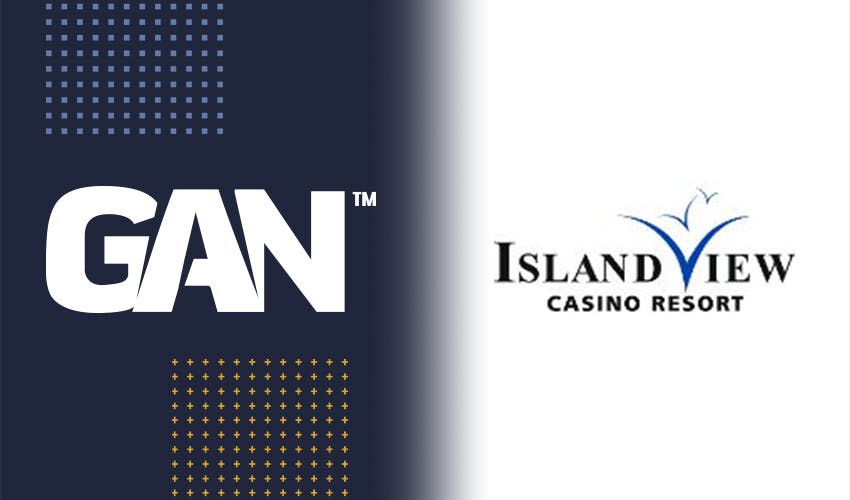 Announcement marks the first U.S. deployment of GAN Sports following the acquisition of COOLBET closed in 2021
Irvine, California | September 28, 2022: GAN Limited (the "Company" or "GAN") (NASDAQ: GAN), a leading North American B2B technology provider of enterprise technology solutions for enabling real money internet gambling today announced the successful launch of GAN Sports for Island View Casino in Gulfport, Mississippi on September 27, 2022.
This announcement demonstrates the extensive capabilities of GAN Sports' in-house online and retail sports betting technology. It is the first of what the Company expects to be a robust cadence of GAN Sports launches throughout 2023. GAN Sports is a modern sportsbook technology platform based on the multiple award-winning COOLBET technology that has been adapted for the U.S. B2B market.
Yesterday's launch of retail sports betting across twenty Internet-connected kiosks will shortly be complemented by the 'Bet the V' mobile sportsbook. This mobile solution is enabled by GAN's market-leading GameSTACK™ Player Account Management (PAM) system for omnichannel sports betting via retail kiosks or personal mobile devices while on-property. GAN will also provide marketing and customer services, delivering a complete end-to-end solution to maximize the client experience. In addition, statewide mobile sports betting and iGaming are incremental exclusive opportunities for GAN in partnership with Island View Casino Resort in Mississippi if supporting legislation emerges in the future.
Dermot S. Smurfit, President & Chief Executive Officer of GAN commented:
"Following our 2021 acquisition of Coolbet we are thrilled to announce the premiere of GAN Sports, perhaps the most innovative sports experience available on-property anywhere in the U.S. today. We are greatly encouraged by the sales momentum for our omnichannel sports betting technology and managed trading services solution and anticipate a high-margin financial contribution as the economics of B2B sports technology provision is highly favorable and incremental to our existing B2B offerings. The entire GAN team is excited to partner with Island View Casino Resort and deliver our complete enterprise solution of on-property GAN Sports, PAM and the omnichannel iBridge Framework™ for linking loyalty programs. We look forward to driving the future growth of their existing sportsbook business and increasing the proportion of our B2B revenues derived from U.S. sports betting as we scale this new B2B revenue stream."
Steve Hendricks, Vice President of Operations of Island View Casino Resort commented:
"We selected GAN for the quality of their sports betting technology and managed trading services following our evaluation of all major potential suppliers. GAN has now brought to our patrons an exciting new on-property sports betting experience enabled by their modern technology and market-leading user interface design greatly encouraging our patrons to construct high-margin multi-stage parlay bets as well as traditional single-game wagers."
About GAN Limited
GAN is a leading business-to-business supplier of internet gambling software-as-a-service solutions predominantly to the U.S. land-based casino industry and is a market-leading business-to-consumer operator of proprietary online sports betting technology internationally with market leadership positions in selected European and Latin American markets. In its B2B segment, GAN has developed a proprietary internet gambling enterprise software system, GameSTACK™, which it licenses to land-based U.S. casino operators as a turnkey technology solution for regulated real money internet gambling, encompassing internet gaming, internet sports betting, and social casino gaming branded as 'Simulated Gaming.'
Forward-Looking Statements
This release contains forward-looking statements within the meaning of the Private Securities Litigation Reform Act of 1995. All statements contained in this release that do not relate to matters of historical fact should be considered forward-looking statements, including statements regarding future business opportunities as well as statements that include the words "expect," "intend," "plan," "believe," "project," "forecast," "estimate," "may," "should," "anticipate" and similar statements of a future or forward-looking nature. These forward-looking statements are based on management's current expectations. These statements are neither promises nor guarantees, but involve known and unknown risks, uncertainties and other important factors that may cause actual results, performance or achievements to be materially different from any future results, performance or achievements expressed or implied by the forward-looking statements. Please refer to the Company's annual, quarterly and current reports filed on Forms 10-K, 10-Q and 8-K from time to time with the Securities and Exchange Commission for a further discussion of the factors and risks associated with the business.   Readers are cautioned not to place undue reliance on any forward-looking statements, which speak only as of the date on which they are made. The Company undertakes no obligation to update or revise any forward-looking statements for any reason except as required by law.
Investor Contacts:
GAN
Robert Shore
Vice President, IR and Capital Markets
(610) 812-3519
[email protected] 
Alpha IR Group
Ryan Coleman or Davis Snyder
(312) 445-2870
[email protected]